She is the oldest university in the Low Countries and still popular among students from all over the world. Africans come to study canonical law, others the Artois beer. But it is also a beautiful medieval town that offers good food, fine cafes and shops.
We made a selection, far from complete. Leuven, 10 hotspots is supposed to be just an appetizer.
1. Boekarest
In a hidden street, right in the center of Leuven you could find, as far as we were concerned, the best book store ever. However they closed. Now you have to go to Boekarest (Bucarest), capital of books. No not in Rumania but in Leuven. – Ladeuzeplein 12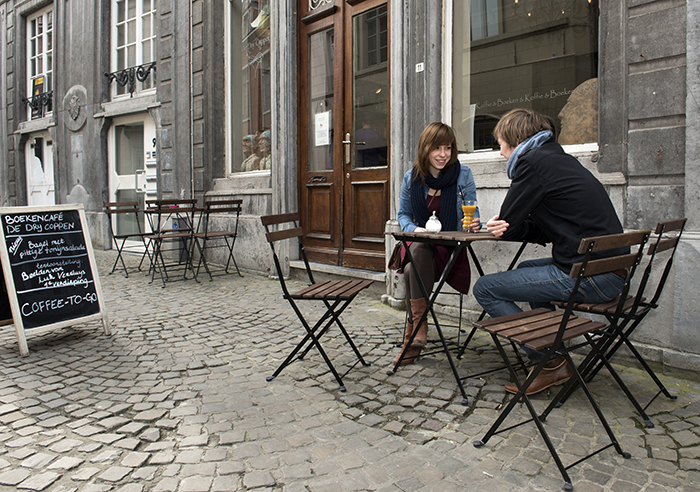 2. Kokoon
They are specialized in lesser known beers, we found out later. Like chicory beer. But by the time we found out we were already hooked on the fabulous food and the fantastic service. The dishes vary from classical western tot hip oriental and everything in between. Mussels in a spicy sauce or rather a piece of meat steamed in beer? Everythin gis possible! – 's Meiersstraat 1
3 Beluga
A small restaurant with a beautiful art deco decor in a side street of the Old Market. Here you can eat fish like you've never tasted before. The chef specializes in lesser known fish, so not to encourage over fishing, which he combines with exceptional wines from various corners of the world – Krakenstraat 1
4. Zoff
Italian snacks in a New York lounge setting with an atmosphere from the eighties? Dino Zoff, the legendary goalkeeper of the Italian national team that was world champion in 1982 gave the place its name. They do fantastic breakfasts, lovely lunches and aperitifs accompanied by Italian finger food? So what you waiting for? – Mechelsestraat
5. t Rood Huys
Gifts and ceramics. Ranging from asymmetrical coffee pots and bowls. In this gallery / studio you will find in addition paintings. – Parijsstraat 62
6. Dimanche a Bamako
A big old house full of rooms and corridors. And filled with African art, trinkets, jewelery, design and clothing. Everything is Fairtrade and eco and a portion of the profits goes to Africa. It is just outside the center for everyone to pass on the road to the small Begijnhof or the industrial area around the Vaarkom.
7. Overnight in a dairy shop
It is not often for hire because the owner of this particular airbnb, a former dairy shop loves to stay at her own place. But if you get the chance, it's a must! This romantic two person apartment with a cozy bed, a small sitting room, and an even smaller kitchen is something special.
8. STUK
Just for the building alone you have to visit STUK art center. The bar area is very special in terms of design and architecture. It is also a nice place to have a beer and look out over the street. Would you rather see a show, catch a movie or attend a workshop?  No problem at all.
9. University library
Who ever  has a hard time concentrating during their studies, goes to the study hall of the university and meets up for joint efforts. Apparently the study hall is so popular that students have to line up outside to get in. Or ware they lining up so they can admire the beautiful building inside? Really worth a visit.  – Ladeuzeplein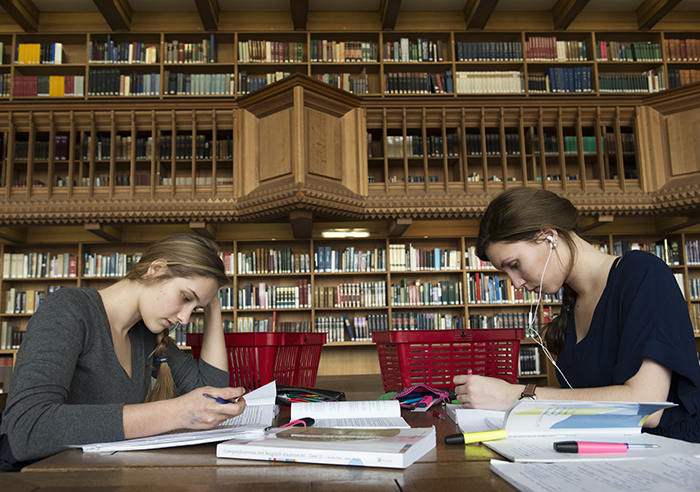 10.  Cafe de Libertad
In the Muntstraat, a street full of hip restaurants, the Libertad cafe is a bit of an odd duck in the pond. Nothing trendy  but a lively cafe where the slightly older youngster like to do a beer. And they are not afraid to have a chat with the newcomer. We felt very at home here.
Text: Anneke de Bundel – Images: Nicole Franken