While the population of Iraq is fleeing to escape the violence of IS, the existing camps are still full of Syrian refugees. Hope feels like a concept from a previous world. Message from a refugee camp.
 
Akre
– The e-mail is short and that makes the despair even more tangible:
"No hopes, all family can do is pray and wait, bye Shukrya."
The mail is not from Shukrya, it was written by her daughter Berivan. A 24-year-old woman who once studied English at the University of Damascus and dreamed of a career in ICT, but now lives in a refugee camp in Akre. In Kurdistan, in northern Iraq.
She shares two small huts with her sister, three brothers, her parents, her husband and recent arrival, baby Peleen. Peleen is four weeks old when Shukrya puts her into my arms.
Syrian refugees
There is something about the refugee camps I have visited in recent years. They always look different to the muddy tent camps surrounded by barbed wire that you see on the news. The camp in Akre is no different. We have already driven past when we see the sign at the front: Akre camp for Syrian refugees.
For Kurdish Syrian refugees from Syria, to be exact, because Akre is situated in Kurdistan and only takes in Kurds.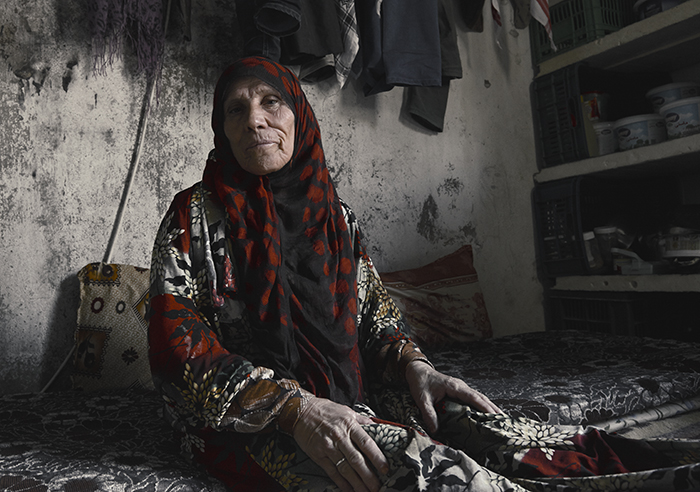 The camp is a former military base. PVC pipes climb up against the stone wall and then disappear about half-way up into coarse holes. There are men hanging around smoking in front of a dilapidated car they offer taxi rides in. Ibrahim is one of these men.
He speaks a few words of English and his story is the story of many people. The only variation on the refrain is the place of origin and the size of the family.
Al Hasakah
Ibrahim fled from Al Hasakah, in peacetime an eight-hour drive towards the west. With his wife and five children. One daughter stayed behind; she was studying up until March in Damascus. "Philosophy", he says when asked and turns his eyes heavenwards, as if he is asking Allah to comprehend this choice.
After the attacks on the university in late March, his daughter stopped and was going to try to join them. But she is still stuck at an aunt's in the capital.
Mosul
For a long time he nursed the secret hope that they would be able to return. One day. Some day. Every war comes to an end, after all. But what about now? "Hmm." This time his arms are raised towards heaven as well and he shakes his head. Now everything is even more uncertain than it was.
Between home town Al Hasakah and the refugee camp in Akre there is a new problem: Mosul. The city that was captured in early June by extremist group ISIS (Islamic State of Iraq and Syria). Recently, a million Iraqis have themselves been fleeing from violence and are likewise setting up camps.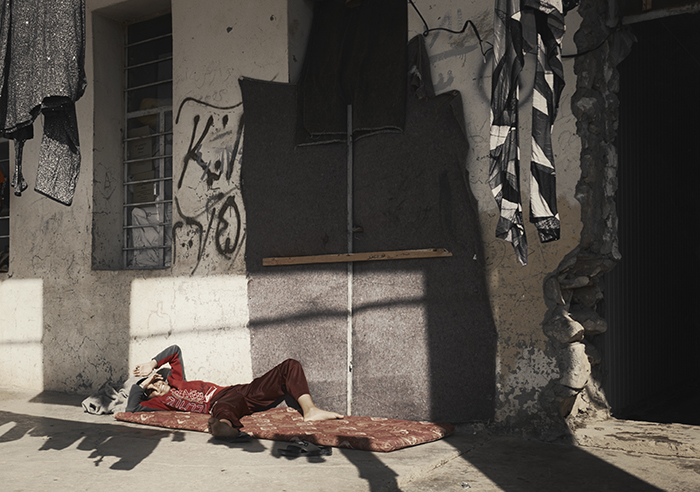 In the inner courtyard, there are blue-and-white plastic UNHCR tents. The bright blue is the only colour in the sand-coloured backdrop. If you don't count the plastic bag flapping on the branch of a dead tree, that is.
A guard quickly closes the Facebook screen on the computer when we tap on the glass and invites us into the small office. "No problem", he says, we can walk around as much as we like. He gives us some water to take with us.
Damascus
Playing children stop their game when they spot us and we are watched with curiosity. On balconies above our heads, women are hanging up the washing and peeking at us between damp sheets. The only adult in the inner courtyard is the 70-year-old Mustafa. He has difficulty walking because of leg injuries.
He comes from Damascus and arrived here with his eldest son and family. The grandfather of ten grandchildren has lived here for six months now. "Anything is better than war", he says in a resigned tone, but his eyes glitter for a moment when I ask whether he expects to be able to go back to Syria ever again. "Insjallah." God willing. "Insjallah."

There are three small makeshift shops next to each other on the corner of the square. All three of them sell exactly the same things: small bags of crisps, plastic toy planes, batteries and some dried onions.
"People buy the other things they need in Akre itself", the owner of the kiosk on the right shrugs. "Every family registered receives rice once a fortnight; the rest you have to scrape together yourself. If you don't work, you go hungry."
The children have come cautiously closer. A man pulls up the legs of his trousers. He wants to show us his wounds and asks if we know a doctor who can help him. "I have all sorts of illnesses", he says. The children push him mercilessly aside. "He moans about his illnesses every day", a boy of about 12 years old explains.
Refugee camp Akre
The camp in Akre has taken in 250 families, about 1200 people in total. They live in makeshift rooms on the former base. Susan and Driss come and stand next to us with their three children: Roanna who is 2, 10-year-old Rujan and Rohaif who is 7. They are happy that they're safe for the time being.
But they have been here for a year now and the hopeless prospects for the future are beginning to gnaw at them. "Education in the tents is just terrible," says Driss. "The refugees themselves provide the lessons."
Ceramics factory
He would rather that his children went to an ordinary school outside the camp, but no-one wants to take the children on. According to the schools, there are too many refugees to help. At the moment, Driss works in the ceramics factory and keeps his family alive that way. In Syria he was an architect. "That's just the way it is", he shrugs.
"We hoped it would soon be over so that our children would be able to lead a normal life, but now …". The rest of the sentence is swallowed up by the dust in the square.
British mandate
Iraq is a confusing country. The current territory was put in place after the First World War under British mandate after the collapse of the Ottoman Empire. There was hardly any attention paid to the various population groups and religious persuasions.
If you leave the small Christian and Armenian population groups out of the equation, the country is divided into a pro-Western Kurdish part in the north, a pro-Iranian Shiite part in the south and a Sunni-Arab part in the middle.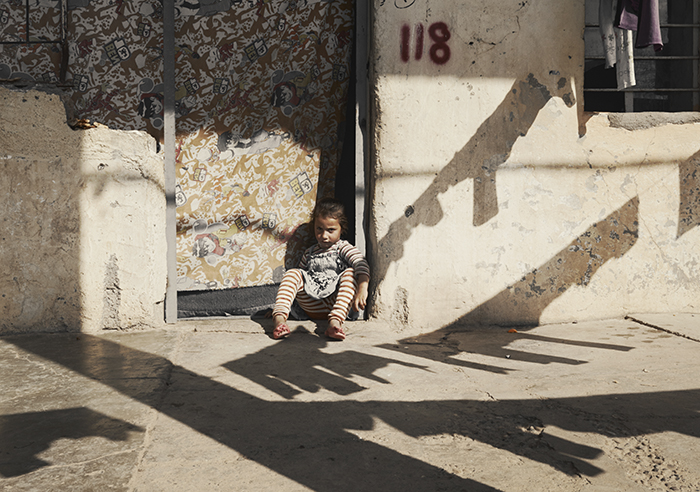 Since the fall of Saddam Hussein, the Kurds have had their own government and parliament within Iraqi territory. Where the various groups live together – particularly in the middle – violence remains the order of the day after the fall of Hussein.
Add in the oil riches around Kirkuk, claimed by both the Sunni and the Kurds and the advancing armies of the ISIS, whose objective is to found an Islamic caliphate in Syria and Iraq and the chaos is complete.
Iraqi Kurdistan
Iraqi Kurdistan may be the country for Kurds, but if you ask the Kurdish refugees from Syria, they just want to go home. "We appreciate what our brothers are doing for us", says Mustafa's son, "but you notices more and more that we are second-class citizens. And that is difficult because we are often highly-qualified and have to do unskilled work."
A woman pulls on the photographer's arm and gestures us to follow. In a concrete hut with a high ceiling there are pieces of cardboard lying on the ground, with rugs and cushions on top. She motions us to take our places against the wall.
The household goods are in crates on planks. From one of the crates she pulls out a small wooden box containing gold-edged porcelain cups lying on a bed of velvet. She boils water on a gas burner and pours coffee for us, which she passes on a tray.
Gold-edged cups
Driver Ibrahim comes in. He turns out to be her husband. The tray with the gold-rimmed cups is out of tune with the shabbiness of the hut. Self-respect cloaked in a coffee ritual. As if she senses what I am thinking, she has translated: "You are my guests, welcome! Wherever you are, you treat guests with respect. I am happy that you are here, although my house is very humble."
However everything is relative, she tells us. After the initial escape, they ended up in a football stadium where they lived for three months without any privacy. "This is progress", she smiles. "If I could, I would go straight back to Al Hasakah.
Al Hasakah
But they are still busy kidnapping and slaughtering each other – even small children are not safe. And polio has broken out in the area."
She worries about her daughter in Damascus, but not overly. "There is so much to worry about." Then her face lights up. "Would you like to see my granddaughter? She has only just been born, a month ago." A little later she arrives with granddaughter Peleen on her arm.
Butterfly
"Peleen means butterfly. We hope that Butterfly can live her life in freedom. "Come on", says Ibrahim when we make a move to leave. "I'll take you to the city in my taxi. And you are my guests, so I don't want any payment."
On the back seat, we crumple some money into a piece of paper. For Butterfly. For freedom.
Text: Anneke de Bundel – Images: Nicole Franken
Translation: Christine Gardner
This story has been published in Dutch in our book On fairies and bullet holes. You can order our book here.