It happens while running. With difficulty I circle around the hamlet Garvald. A small community of 200 souls housed in stone cottages with flowery Laura Ashley sofas and well read literature on the bookshelves.
Scotland
– The village lies in a valley about 40 minutes south of Edinburgh. Once there were two breweries, three brothels, many bakers, weavers, shoemakers and a blacksmith. Now there is one pub and a former bakehouse where I sleep.
Lammermuir Hills
I run along walls overgrown with raspberries and bright blue corn flowers. Pass cows chewing slowly while they keep an eye on me. Sheep flee en masse as I approach. TMy footsteps are being absorbed by the Lammermuir Hills.
The same hills where Sir Walter Scott's historical novel "Bride of Lammermoor' is situated. A Romeo and Juliet-esque tale full of evil mothers and cruel ended love-affairs. The story is in stark contrast to the genteel surroundings.
Scots are
nice
While my feet hit the road, they are accompanied by a phrase in my head. "Scots are nice, Scots are nice." It takes time before the text reaches my brain. Why am I saying this? Do I find them nice because they let us win the pub quiz the night before?
A merit that we can hardly be held accountable for. I really did think Thatcher was the longest-serving prime minister! It was thanks to the McGregors, who had asked us to join their team, that we won. Two bottles of wine and the honor to organise next months pub quiz. How nice is that?
Scottish myths
According to the stereotypes the Scots are not nice at all. They are considered: mean, drunk and dour. A row caused by a British politician, who recently claimed that that was exactly what they are, led to jolly remarks on Twitter. "The Scots are not mean and dour, they are just always drunk."
Now mean is typical a quality the Dutch don't care about, since they are accused of exactly the same. And drunk? We ladies like to have a drink more often than not, which leaves us with dour. And in the weeks we traveled through Scotland, we found nothing of the sort.
Scottish stereotypes
On the contrary,
we
have
 met only extremely friendly and open people who wanted to know where we were from.
 What
we
 thought of the 
country,
what kind of work
we
do, where we
stay. 
And all
with
the 
eagerness
and
curiosity that
we
previously
only
encountered
in
Uganda
.
And while I run, I think about Scotland and our own findings and decide to review some of the Scottish myths.
1. All Scots are dour
Of all Scottish myths this is number one. The answer? Nope! The Scots are very nice. With the possible exception maybe of bus drivers in Edinburgh. According to a friend who lives there, passengers get upset when they run into a friendly bus driver and talk about it for days on end.
But even our very dour bus driver didn't hesitate to stop the bus at our request along the side of the road at the required spot. Incidentally, did you know that all the Dutch are nice as well? That at least claimed the former minister of Gifford, we met in a pub.
The Dutch are nice
"You ladies are Dutch?" asked the elderly man who just minutes before admitted that he was confused most of the time. "You just made my day. The Dutch are the nicest people in the world." Talking about being confused!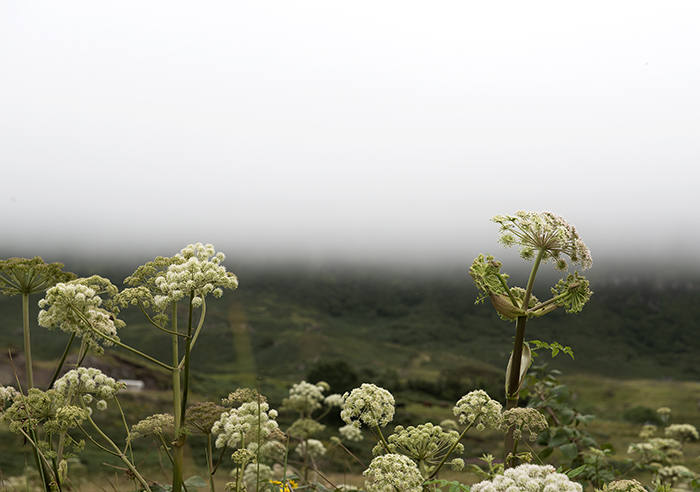 2. Scottish weather is terrible
"If you don't like the weather in Scotland, wait 5 minutes", a taxi driver once told us during a feature. Indicating that nothing is as changeable as the weather in Scotland. And although five minutes might be a bit exaggerated, a rainy day can end up sunny or vice versa.
In Edinburgh the day invariably started with bright sunshine. At exactly 14:00 pm rain came pouring down from the sky. Conversely, at the sight of a sunbeam, all Scotts hurry with a picnic basket down to the park or collapse on a beach in bathing suit. A phenomenon only surpassed by Icelanders who walk around in flipflops and shorts as soon as the temperature hits 12°C, calling it summer.
Bring your raincoat!
An Englishman, who set next to us on the bus, looked in astonishment at two students having breakfast in the sun on an extremely thin ridge above the street, then remarked: "Well, I suppose in Scotland you have to to enjoy the sun. All four hours of it."
The moral of this story: Always bring your raincoat even though it is ever so promising above your head. Incidentally, the summer of 2015 will go down as the worst summer since 20 years in Scotland.
Midges ruin your holiday
And talking about bad weather will take you straight to a conversation on midges. Those annoying little female critters (males are vegetarian) that suck the blood right out of your veins anywhere between June and October. The terror of the Scottish Highlands.
Well,
that's what we
 the Scots say
, but
 it is 
fair to
say
that we
 hardly 
encountered
 any 
in all of our travels 
through Scotland.
 No matter h
ow
wet
and
how
soggy
it was.
Midges
incidentally
don't like
sun 
and
wind
.
We
suspect
the Scots
 to have invented the 
midges as part of 
Scottish 
conspiracy
to
keep people out of
their beautiful
regions.
At the station of Ranoch Moor, where the highest train departs from the Scottish Highlands, we were warned everywhere. Please close doors of toilets, cafés, and train compartments and leave the lights off! We did not see nor feel one midge. We did however spot baskets full of Skin So Soft Body Oil by Avon. A skin cream that is apparently so gross that even the midges are deterred by it.
3. Every Scot plays an instrument
Here we can be brief. This is incorrect. Every Scot plays at least three instruments.
4. Scots do not wear underwear under their kilt
This is correct. Although we do not get this at first hand. Both Nomad as I have repeatedly let ourselves fall on the ground whenever we encountered a man in kilt to do in-depth investigative journalism.
You come across men with kilts and bagpipes at tourist spots or in villages on Saturday at parties and weddings. From the ground looking up, we saw very little. "However," this was not an urban legend, we realised as we were rubbing our scraped knees.
Willy warmer
How do we then know? Because of the Willy Warmer! Throughout Scotland you can get crochet and knitting patterns for a willy warmer. And you really do not need those when you're wearing a pair of underpants!
5. Scots love dogs
Correct. If you do not like dogs,  stay away. Scotland (and Britain as a whole) are very dog friendly. Virtually all hotels and many restaurants allow dogs. And the few times they don't, they draw in a hundreds of excuses why they unfortunately can not be more hospitable to your dog.
Dogs hardly seem to notice each other. In the tiny ferry from Port Appin to Lismore we travelled with 6 people and 12 dogs. All dogs just fell asleep beside each other.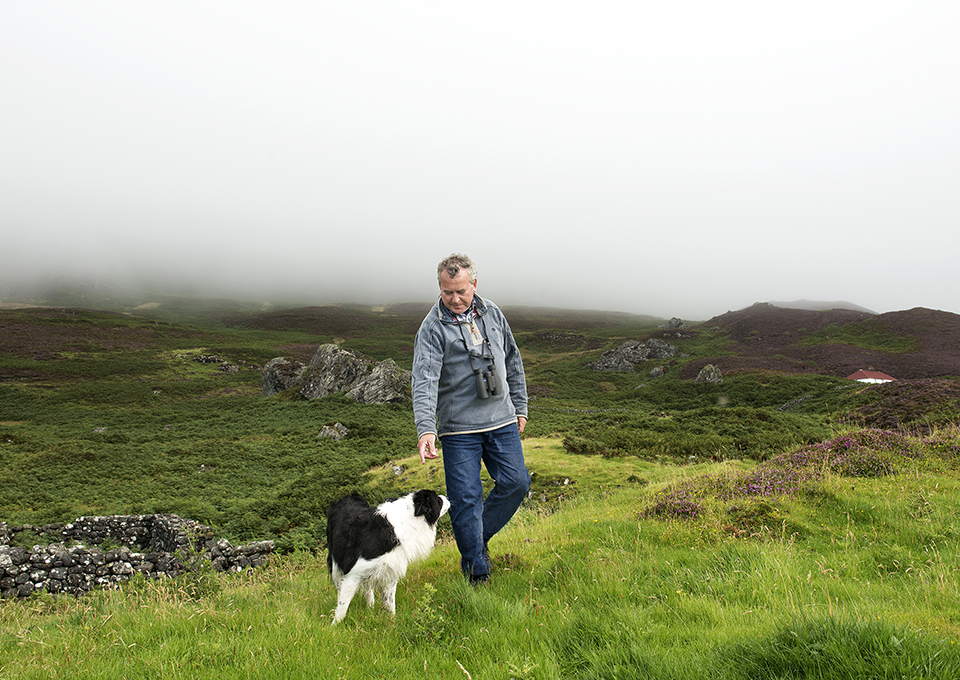 6. Scots are environmentally conscious
As far as we could see, Scots are very much aware of the beautiful spot they live in. And they live accordingly. The brand Ecover seems to dominate many households and bed&breakfasts.
Even chains like Aldi and Lidl, not known for their environmentally friendly range, offer many biological and ecological products in Scotland. And look around you. The meadows are full of wild flowers because they are not fertilized.
And America's most famous conservationist, John Muir, founder of the Sierra Club, today one of the largest conservation organizations in the United States, was a Scot. His activism led to the creation of Yosemite National Park and Sequoia National Park. He declared his love for nature because of his youth spent in the Scottish fishing town of Dunbar.
7. Every Scot plays golf
On the basis of the number of golf courses, you can hardly conclude otherwise. Every village, every hamlet has a golf course. And although Britain regularly is seen as a class society and golf is considered as a sport for the rich, in Scotland it is for everyone.
No handicap certificate required. Just enjoy a game in nature. In the evening have a pint in a pub where undoubtedly a golf tournament is shown on tv. One tip: never rent a car during a Scottish golf tournament, because the prices double, even for those who have never touched a golf club in their lives.
8. Every Scot eats haggis
Every
carnivorous
Scot
anyway
.
The national dish
, offered in almost 
every
pub
,
is made from 
heart
, lung and the liver
of
a sheep.
Grounded
with
animal fat,
oatmeal
and
spices.
Originally 
bound together in a
sheep's stomach
.
And served with
'
neeps
and
tatties
' or
rutabaga 
and
 mashed 
potatoes.
Haggis is traditionally served with the Burns Supper, a dinner held on January 25 to celebrate the birthday of Scotland's national poet Robert Burns, who wrote an ode to the haggis. The haggis is then served accompanied by bagpipe music.
During a Burns supper haggis is eaten, Scotch whiskey drunk and maybe one or two poems recited. If ever you are invited, we can already help you out with a poem Burns wrote on haggis:
Address to a haggis
Fair fa' your honest, sonsie face,
Great chieftain o' the puddin-race!
Aboon them a' ye tak your place,
Painch, tripe, or thairm:
Weel are ye wordy o' a grace
As lang's my arm.
9. All Scots eat fried Mars bars
"Nonsense," say the Scots who claim that the accusation of eating fried Mars bars comes from the English. And to be honest we did no encounter one Mars eating Scot. Leave alone eating a fried Mars bar. But what we did find in the supermarket? Liquid Mars bar drinks! According to the junior Nomad & Villagers it was divine.
10. All Scots have a toaster and a settee
It wakes you up and it makes you fall asleep. It could be a question for hints really. We've had many toasted sandwiches for breakfast and the children have to be undented after the holidays, but the toaster and the settee are one hundred percent present in every Scottish household.
Text: Anneke de Bundel – Images: Nicole Franken 
More Scotland? Read:
Over elfjes en kogelgaten