It was not long after an unknown elderly woman asked me if she could sit at my table, that I came to my senses. That in Ostend they celebrate Christmas in summer because it is too cold in December was strange. That the fishermen only want to marry women who can sing was also a writing on the wall.
Ostend –
In retrospect, there had been a clear sign. But afterwards it is always to easy to put the vinger on the sore spot. As it happens, I initially had no clue. I was awakened that morning by a constant tapping at my window overlooking the beach of Ostend.
At home I have a neighbor, who for weeks, has been hammering away in his shed in the garden, so when at first I was awoken by the tapping, I was not surprised.
Beach of Ostend
Only when I realized I was staying on the sixth floor of a hotel, I became alarmed. I pushed the curtain aside and looked at the albino beady eyes of a seagull on the railing in front of the window. Brutally, he peered inside.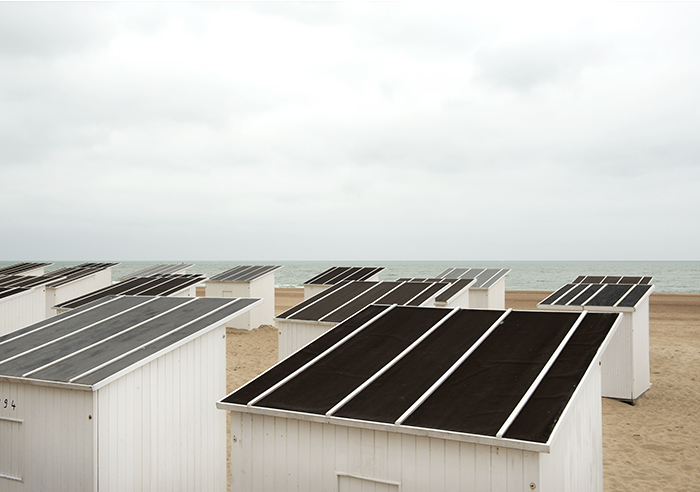 The sun was shining and I decided to take a walk on the Ostend beach. Where the striped windshields had been left abandoned the day before, due to the weather, today everyone seemed to seek their comfort. I walked passed the casino and stopped near a bench to gaze over the sea and then continued on to the harbor.
A fisherman waved and pointed at his boat. "Want to come along?", he shouted as he used his hands as a ship horn. I nodded. "Ok, I'll be on the the wharf in ten minutes."
The quay of Ostend
As it turned out William, the fisherman,  had been fishing all his life. "No brains for school," he said as he pointed to his red woolen cap. The boat departed towards open sea and then turned to the left so we sailed off the coast of Ostend. In the distance I saw the casino and the Royal Galleries, so typical of the quay bordering the beach of Ostend.
"Got a man?", William asked. I pretended not to hear him and waited. No idea what a fisherman earns nowadays so I thought it best not to lay all my cards on the table. "I've been married four times, but it was no success", he said. "Do you sing?" "You mean like Lucy Loes?" I asked.
Fishmarket
I had seen the bronze head of the singing woman, a fisherman's wife, at the entrance of the fish market. William nodded. "Sorry", I said, I absolutely can not sing." "Well," William concluded, "in that case a marriage makes no sense."
"Women should be able to sing," he explained, "they can never shut up so then it's better if they can sing. Gives them less time to complain about their husband."
St. Peter and Paul Square
From the boat I walked along the beach of Ostend and the stalls on the fishing quay with dried stockfish. Gulls sat on the placards warning those feeding them of a fine of 250 euros.
At the entrance of St. Peter and Paul Square, there was a wooden chalet with Christmas trees and Christmas decorations. It was August. When I entered the square, they were finalizing the preparation of Paul's Festival, an annual festival with performances at various squares. Snowmen were hoisted on beer tents and baubles colored the terraces around the square.
Christmas party
Once a landlord in an adjacent square decided to organize a Christmas party in August for a friend who thought it was a pity that Christmas didn't take place in the summer. Apparently more people were sorry that Jesus was born in December, because now Paul's festival has become a tradition with various bands playing in the city.
I entered a church. In the porch hung a black and white picture of a priest who had gone to Mongolia to bring Faith. Apparently it was not received well because the man was brutally murdered and declared a martyr.
Fishing boat
When evening came, I walked back over the beach of Ostend in the direction of the casino. I took a seat on a terrace overlooking the sea. It was busy on the terrace. A DJ played jazz and around me people were having conversations. In the distance I could see the sun go down behind a fishing boat.
Suddenly an elderly woman appeared at my table. "Can I sit with you?" She was all by herself. Her husband had died, she explained, and now she drank every night an aperitif on the terrace.
Loneliness
Her loneliness hung painfully over our shared table. She had no friends, she said. "I am not the kind to make friends." She had lived her entire life in Ostend with the exception of the years during the war.
"We were too afraid of the bombs, you see." Occasionally she went out to dinner by herself but she thought nothing of the service waiters gave nowadays.  "So poor. They think everyone is their friend." I'm not the kind to make friends."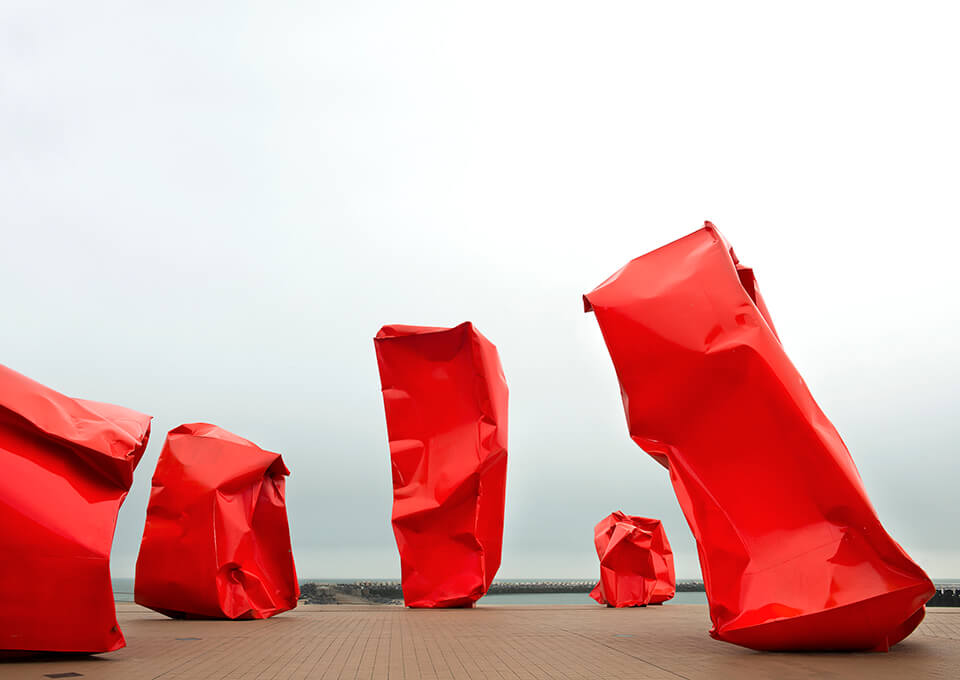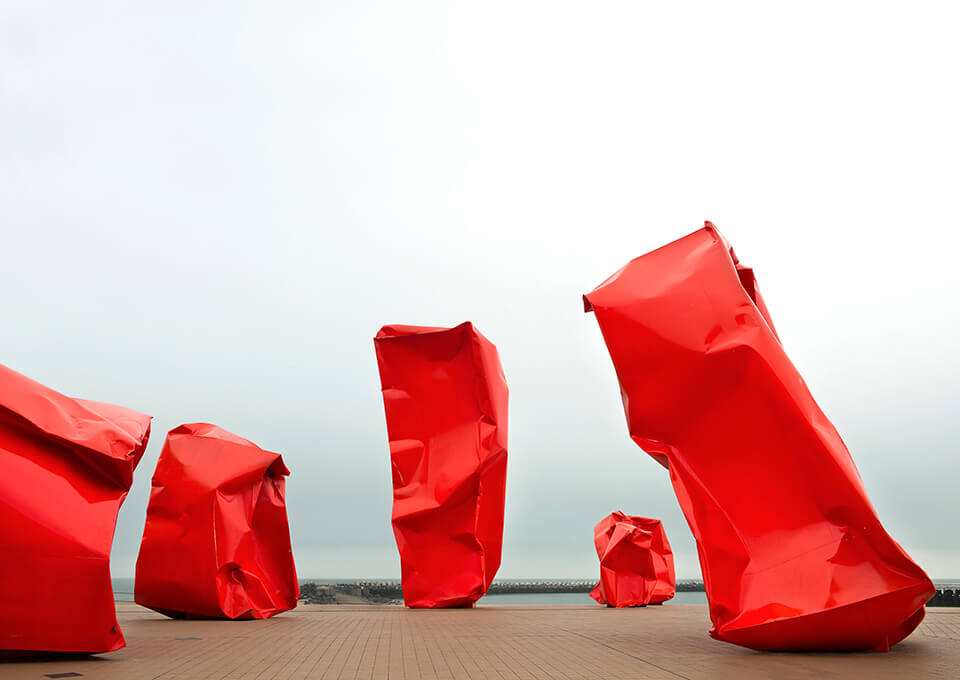 When I left to go watch the band Fischer-Z and unlocked my bike it suddenly hit me. That they celebrate Christmas in summer because it is too cold and to white in December was strange. That fishermen only want to marry women who can sing was also a writing on the wall.
But that unknown women were taking a seat at my table because they did not enjoy company was surely the ultimate proof that the inhabitants of Ostend were raving mad. And as it happens with such findings, I realised I was seriously falling in love with this seaside town with its wonderful people.
Text: Anneke de Bundel – Images: Nicole Franken
More Ostend? Do read:
Literature on Ostend: