The raven skims past the young arctic fox who is chewing on a piece of grass. Out of the corner of his eye, he keeps a close watch on the large bird. Suddenly he leaps up and like a young dog heads the raven, who playfully flutters in front of him. When the fox lies down again, the raven challenges him once more and the game begins all over again.
Iceland
 – The scene is taking place right in front of my feet. In Iceland – the land of sagas, elves and trolls. Behind the animals at play, darkness is slowly falling above the famous volcano Eyjafjallajökull. Soon, when the little houses in Vatnsholt have been swallowed up by the dark, the northern lights will claim the stage and paint the farmhouse flaming green.
I shiver. Although it's not really cold – about five degrees – the wind in Iceland is infamous. "Like an unfaithful lover who cheats on you time and again", Valdi, the fisherman in Reykjavik had warned me this morning.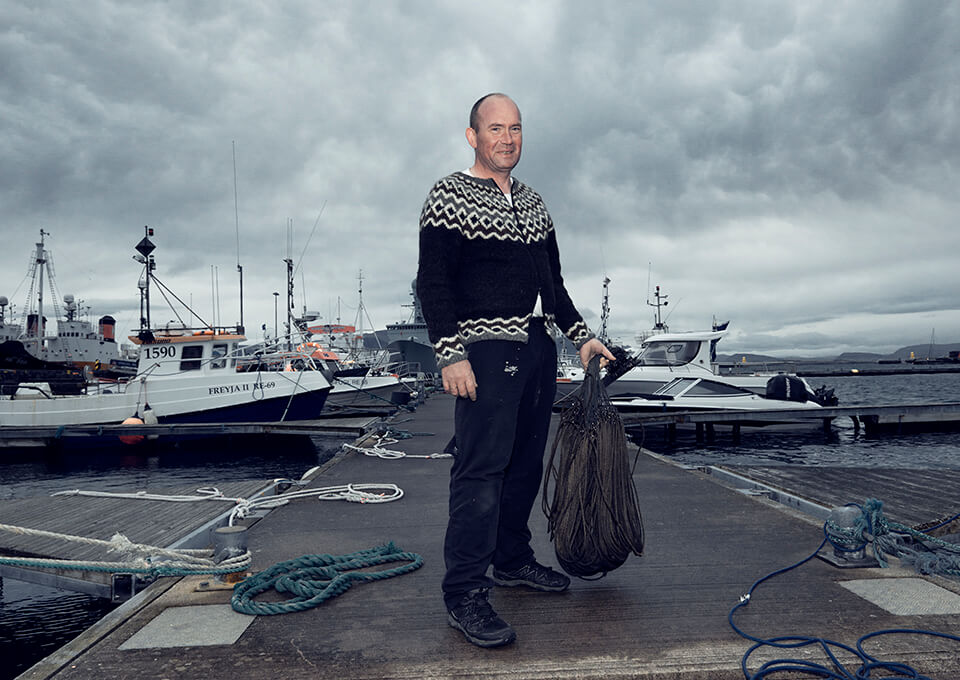 Valdi, in his brown woollen Icelandic cardigan. The zip was broken at the bottom, revealing his round belly in a blood-stained white t-shirt. He's been taking to the sea alone since he was fourteen, hunting for cod. Just like his granddad. But not his father. No, he got sea-sick, like his son. We had mailed him to ask: "Valdi, can we go out on the water with you?"
Whaling ships
"Meet me at my workshop", he had replied. Workshop? It was a shed opposite the harbour. In between hip design shops and restaurants with Italian pastas and Argentine steaks, and looking out over the whaling ships. The boats that go out every week hunting for the giants that are destined for the Japanese market.
He had opened the door with a knife in his hand. I'm in Iceland, the most peaceful country in the world and I'm greeted by a man with a knife. He made coffee for us in a bubbling machine; the coffee smelled of fish. Dead cod eyes stared up at us from a tub of ice.
Reykjavik
No, going out on the water wasn't possible, the sea was playing up. For days he had had to leave his boat behind in another harbour. Reykjavik wasn't on the cards. That was when he had said that the wind was an unfaithful lover.
The entire history of Iceland revolves around being deceived. Look at its name and then look around you. Iceland isn't made of ice at all; Iceland is green, moss-green to be precise. And while we're at it: Greenland is ice.
Norse Viking
It was a Norse Viking, who had to save his bacon after some vague murders, who put to sea and ended up on Iceland. In order to discourage other parties interested in the island, he named it Iceland.

His son, Erik the Red, who in turn had to flee Iceland after some violent behaviour, ended up on Greenland. He quickly decided that he could use some extra pairs of hands on the endless snow plain. He would never get them if he didn't find a way to put a gloss on the solid ice mass by giving it an attractive name.
Greenland, for instance. Iceland is green and Greenland is ice. A mantra that every Icelander knows.
Vulcanoes
Every inhabitant – on Iceland that's around 300.000. As many as Utrecht; Antwerp has more. Spread over a country two-and-a half times the size of the Netherlands. A country that is continuously under threat from within. From 130 volcanoes. Apparently not from outside, because they don't have an army or navy.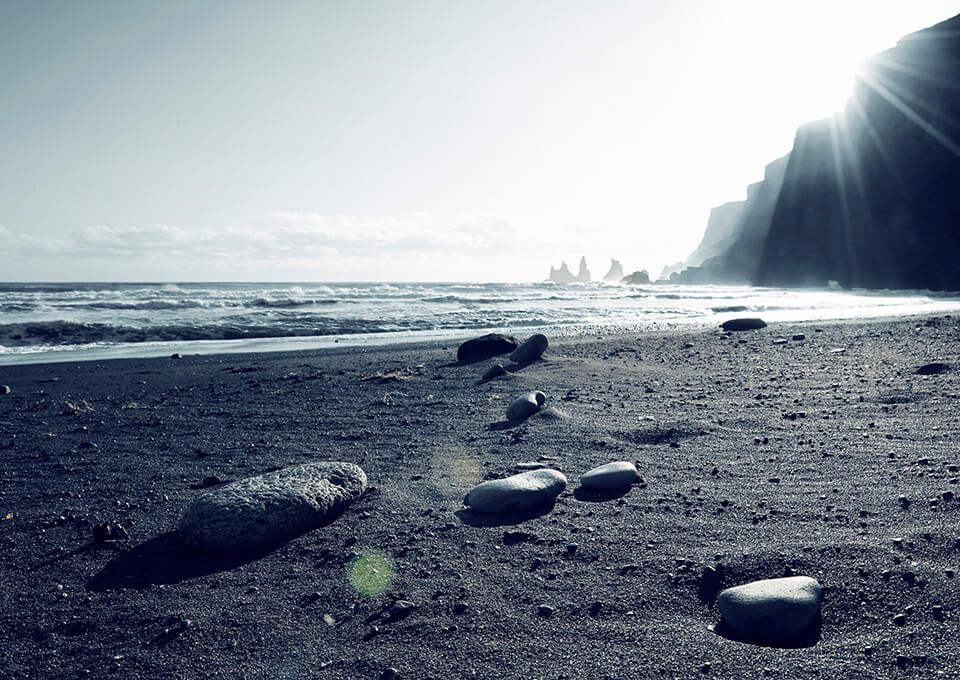 The people live in little tufts spread across the island, on mossy lava between glaciers, volcanoes and floating ice formations. The towns are hamlets. Nestled on a ground of grating tectonic plates, the landscape could look completely different tomorrow.
Basalt formations
Take the beautiful little town of Vik, for instance. Picturesque little houses on a black lava coast and a small church high up on a hill. A handful of photogenic basalt formations in the sea. In front of the windows of the house, plants that act as if they are oblivious to the winter sleep that awaits them.
The sun is shining. In a country where 13 degrees is called summer, Icelanders are walking round in t-shirts at the moment. Above Vik is the gigantic Myrdalsjökull glacier, which conceals the Katla volcano underneath – Iceland's most active volcano.
Vik
On average it opens its huge crater mouth once every 40 to 80 years and spews fire. The last time was in 1918 and now heightened activity has been observed. But nobody seems to be bothered. 
Girls with pigtails wait obediently on the kerb before crossing, looking left and then right. There isn't a car in sight. "Look up", I want to call out, "that's where danger threatens." In the pub in Vik there are Icelanders sitting drinking wine and laughing merrily at so much sunshine.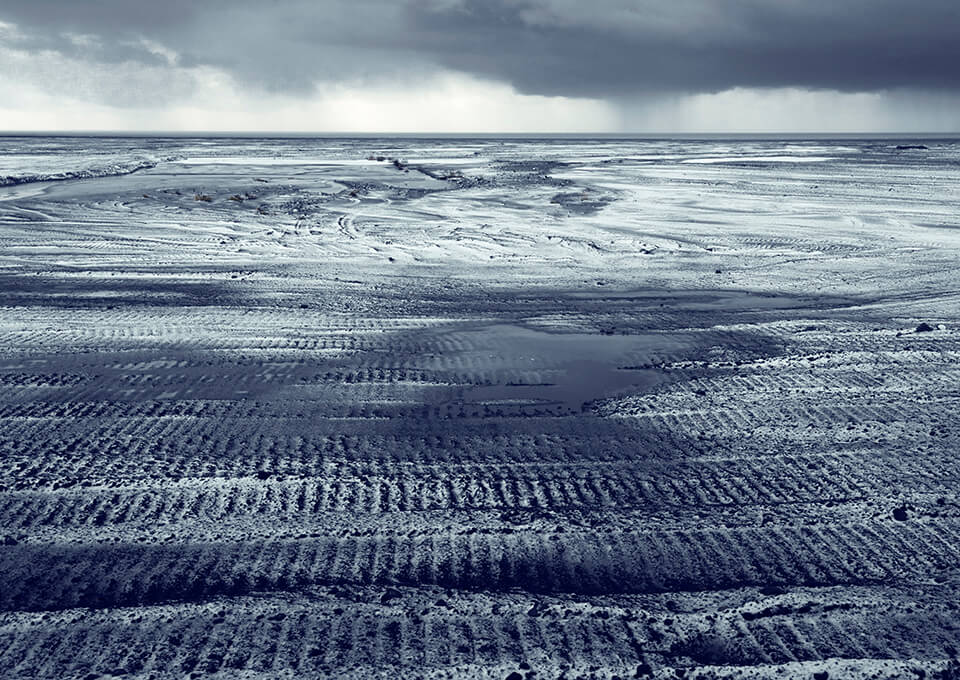 Lava landscape
Past Vik, a solitary bridge is a reminder of the continually changing landscape. The bridge looks as if it has been randomly tossed into the lava landscape, but it was once part of the southern ring road.
"Why should we worry?", laughs Ólöf  Birgisdottir that evening. Ólöf runs Hunkubakkar, a sheep farm with guest accommodation not far from Kirkjubaejarklaustur. Kirk-ju-bae-jar-klaustur. The place names are as magical as the landscape. I let her repeat the name three times, but it doesn't stick, there's nothing to hook it onto.
Nature is in charge
"What's it like to live somewhere where the landscape presents a threat and changes constantly?", I ask her. Through the big windows I can see the Icelandic ponies munching on a bale of hay. Behind, the sheep are bleating softly while they move up the hill in formation.
"We try to make friends with nature, but we don't worry about things we can't influence", she says while serving up soup. "But how do you prepare? Are your houses designed in such a way that you can quickly grab your furniture? Child, pony and sheep under your arm and start again somewhere new?", I continue insistently.
Icelandic design
She sighs and pulls up a chair. "If you live in Iceland, you know that nature is in charge. You don't think about it all the time, volcanoes are watched closely. And no, we don't have disposable furniture, although that's what some people might call Icelandic design."
She laughs cheerfully. How old is she? Twenty-five, twenty-eight? And she works here among sheep and ponies and runs a hotel.
Geothermal energy
The Polish cook brings a vegetable dish while Ólöf continues: "Don't forget, nature also provides opportunities. We make use of the geysers and the waterfalls." Geothermal energy provides 65 percent of the total energy requirement.
"You'd be surprised, but Iceland grows really tasty tomatoes and cucumbers in the greenhouses round Selfoss. We don't export the vegetables, so we can let them ripen for a long time." We have to admit, the vegetables taste delicious. 
Icelandic name
Ólöf Birgisdottir. Her name is an Icelandic phenomenon as well – she's the daughter of Birgis. Almost every Icelander carries the name of their father or mother with son or daughter stuck on at the back. Up until recently, it was mandatory to choose the name from a prescribed list. 
Until 15-year-old Blaer filed a complaint against Iceland. The name her parents had given her – which means light breeze – was not on the list, so the authorities had ignored the parents and registered the girl simply as Stulka, or Girl.
Reykjavik
Ingólfur Arnarson and Hallveig Fródadottir, the founders of this country, were Norwegians who travelled to Iceland round 870. They saw steam rising on the south coast not far from the workshop where Valdi now prises the guts out of his cod. They called this place Smoke Bay, or Reykjavik.
We drive past wooden houses towards the harbour. Why are the houses made of wood when there's not a tree in sight? But I'm mistaken. What I assumed to be wood is corrugated aluminium sheeting, which is then painted in traditional colours: yellow, red or blue. Wood is far too expensive – it would have to be imported.
Halldór Laxness
The sun is setting over the harbour. The bow of a ship peers into my hotel room. It's still dark when we leave Reykjavik. In 1955, the winner of the Nobel Prize for Literature was Icelandic. With a bang, the land of the Vikings was suddenly on the cultural map.
"Writer Halldór Laxness described the landscape he lived in differently each time", according to the jury. That makes sense, I think to myself; it certainly is different each time.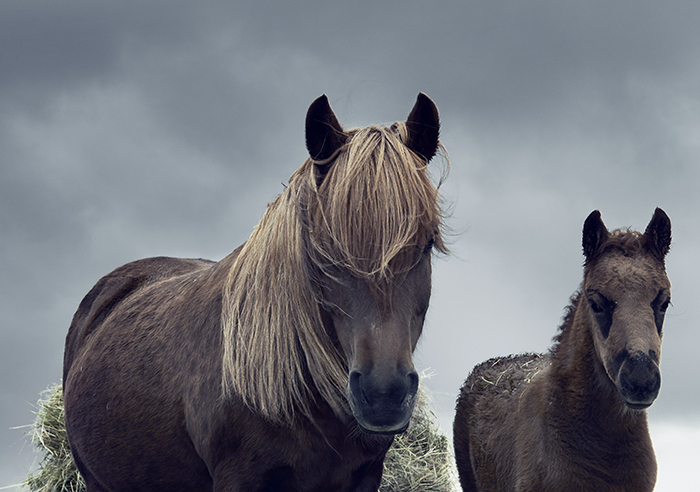 When we drive past his museum house in Gljúfrasteinn, just outside Reykjavik, it's the Icelandic ponies opposite that claim our attention. Dozens of them, standing in front of a fence in the pouring rain. The only white one in the centre.
Horses
Haukur, from Laxness horse farm, shakes the rain out of his hair. He's just back from a horse ride through the valley of Mosfellsdalur. His rugged horses played a starring role during the filming of Game of Thrones, which took place partly in Iceland.
The horses are jokingly called faithful retainers. Once upon a time they came with Ingólfur and Hallveig and their offspring from Norway. "Without them, the Icelander wouldn't have survived", is Haukur's opinion. "They accompanied us from the cradle to the grave. They fetched the midwife, worked the land and ultimately, when it was your time, they brought you to your final resting place."
Thingvellir National Park
While the rain pelts down on the roof, we drive on to the Thingvellir National Park. Dark threatening clouds, yellowed leaves on mossy lava. In the distance we see the steam from the geysers that Ingólfur and Hallveig took for smoke.
In Geysir the large geyser is apparently by now extinguished for ever. Killed by the same soap that was thrown in every half-hour to bring it to life and make it spurt about 60 metres into the air. But for our eyes, untrained in geysers, the small Strokkur is most impressive as well, with its 30 metres.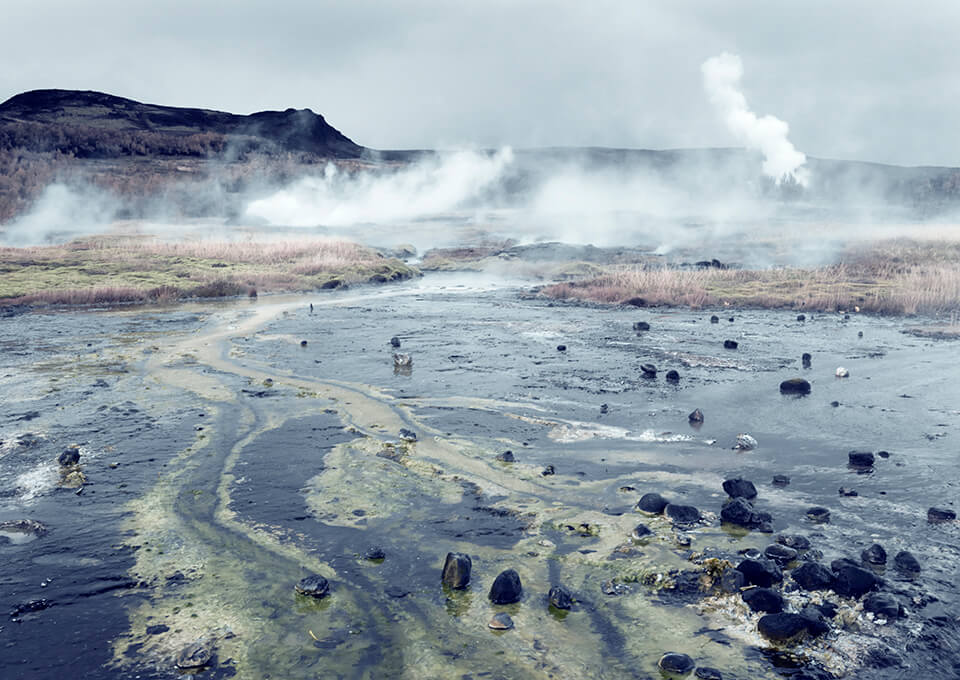 It had snowed in Kirkjubaejarklaustur when we woke. The ponies were now walking about in a white landscape and the elf-house under the tree had a white roof.
Fjaðrárgljúfur canyon
We're going to the Fjaðrárgljúfur canyon. Water streams through a canyon covered in moss to a bizarre black-and-white landscape. Sometimes I'm not sure what I'm seeing. Is it lava? Is it the sky? What is it? The landscape is as graphic as if Escher himself had drawn the land.
We see another elf-house, a miniature wooden house like a beautifully designed doll's house. This time there are bones lying in front of it. "No idea", says the boy from the Skógar museum when I ask what the bones are for. A woman taking the money for a postcard is more helpful. "Those bones used to be for children to play with. But why they're lying there now? Ask the elves!"
Seljalandfoss Waterfall
The Seljalandfoss waterfall. The landscape is flat and it bursts out of the rock at a height of 45 metres. Not the highest in Iceland, but certainly picturesque. Bridal couples with quilted parkas over their wedding finery wait calmly until the photographer has taken up position, then throw off the parkas and pose as if Iceland were a tropical destination.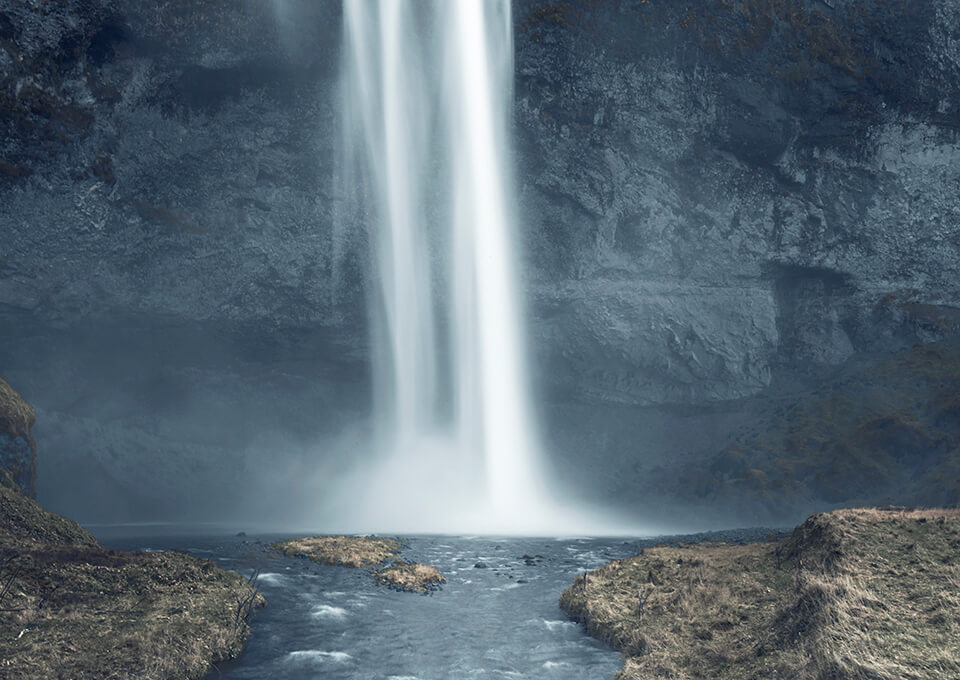 We stop for a while at the Vatnsholt farm and see a fox playing with a raven. While I'm watching the animals at play, a quote from Game of Thrones suddenly pops into my head. "There is only one god, and his name is Death. And there is only one thing we say to Death: 'Not today.'
Raven
Is that what farmer Jóhann was thinking when he saved the life of the young arctic fox, whose mother has been shot by hunters, and who was now tumbling about on his farm hotel in the dusk with the equally young raven?
"Arctic foxtails are popular hunting trophies in Iceland", a farm worker tells us. "The foxes pose a threat to the sheep. So in Iceland, a lot of money is offered for their tails and pelts."
Foxes
We hardly see any sheep on our trip through the southern side of the island. Maybe they've all been eaten. But we do see ravens. Together with the arctic foxes and the Icelandic ponies, they represent the regular fauna of the subarctic island.
Long since extinct in Western Europe, there's a raven sitting on every fence in Iceland. It provides a jarring note in this fairy-tale landscape.
Safest country in the world
We head on down to Eyarbakki, a fishing village on the coast. Once quite important, but now lulled to sleep. Here, too, are the only two prisons in Iceland. In the safest country in the world where the police is your friend. In the event you even see the police. Icelanders are allowed to carry weapons and yet they don't kill each other. Not even one murder per year.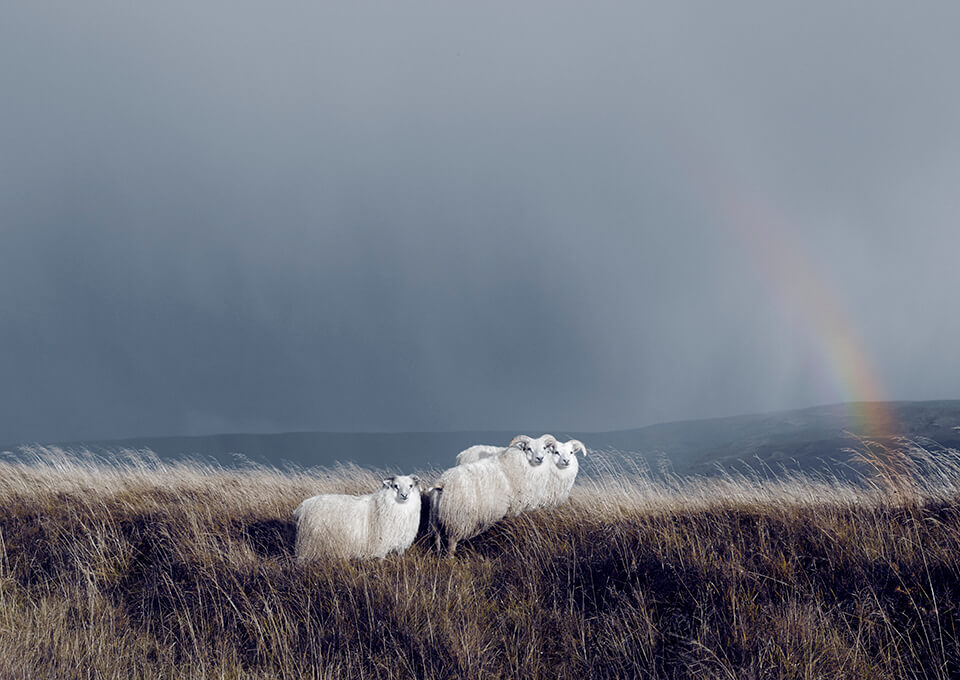 Perhaps it's the bloody sagas filled with murder that they read in front of the fire during the long winters that prevents them from killing each other in the short summer? We wonder what they have on their conscience inside that white building.
There are bicycles lying in the grass in front of the prison as if they cycle home again in the evening after a day in jail. A husky is lazing on a trampoline. We run into no-one.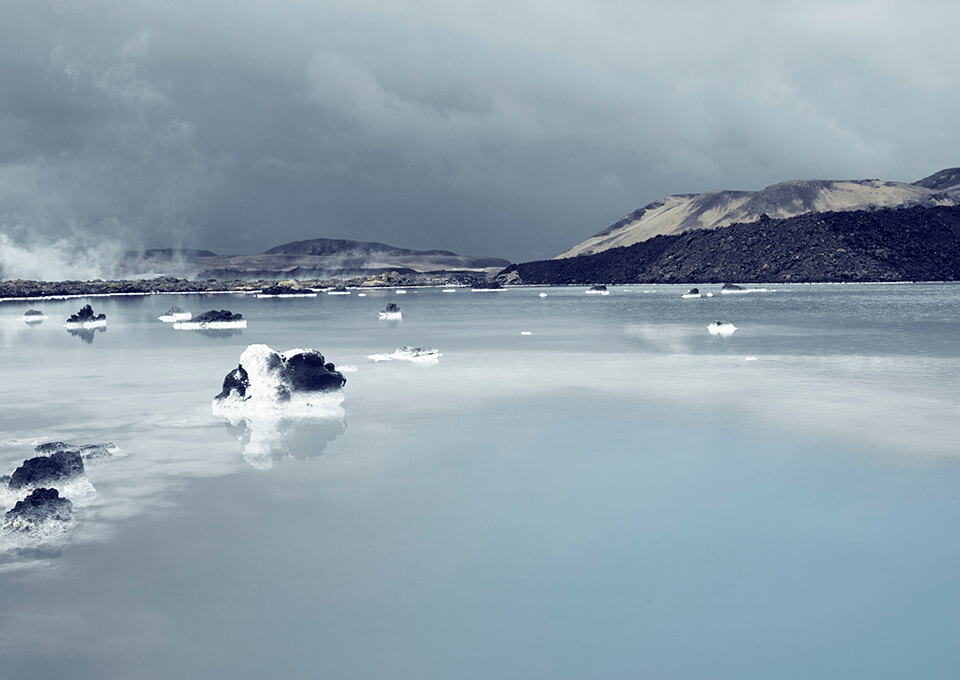 Heading towards the Blue Lagoon, Iceland's greatest natural wonder with its warm mineral-rich seawater, the landscape becomes more fierce and desolate. And then suddenly, there it is – the bright blue sulphur water. Steam wafts across the blue. While we're buying entrance tickets, I see them lying for sale at €559 apiece. Arctic fox pelts.
Text: Anneke de Bundel – Images: Nicole Franken
Translation: Christine Gardner
This trip came about because we won the Bloscar 2014 for the best travel-story site, which made it possible to travel to Iceland. 
This story has been published in Dutch in our book On fairies and bullet holes. You can order our book here.
More Iceland? Read: